Thanks for all the feedbacks for IPAM module. We have added some of the features as suggested by you starting with release 2.4.0. Following are the new additions for IP Address Management module:
IP Address Type and availability

Now you would be able to choose the type of IP address and its availability. Both these options show up in filter list as well for better list display.
Bulk IP Operations

Add IP addresses(IPv4) in bulk. Easy to add whole static, DHCP or reserved range and mark those IPs as available or not available. Also, new bulk operations now available from IP address list view as shown below.

Filter IPs by last update date stamp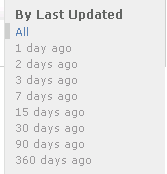 IP Addresses now have last updated time stamp associated and you can filter by last updated. This ties in with bulk operations from list view, you can delete or mark available those IPs which have not been updated in a while.
If you have network auto-discovery scheduled and/or run auto-discovery on regular basis, you can use this to keep your IP address information fairly up-to-date.
Popup lookup for devices and MAC addresses instead of drop-downs

As suggested by some of you, we have changed the Device and MAC address fields to use popup list view with search instead of drop-downs. It is still 2 clicks(for most part), but works better if you have lots of devices and MAC addresses.
Please send us an email to grab the latest release as we haven't published it publicly yet or subscribe to the rss feed or twitter to get notified as soon that is published.
v2.4.2 update is now available at https://www.device42.com/update