D42 Ping sweep utility is also going native now, following the footsteps of auto-discovery client. Now easily keep you IP information up-to-date for better IP Address management with device42 software.
This utility calls nmap in the background, parses the output and uploads the IP information(possibly along with MAC and device info from reverse DNS) to device42 appliance.
Native Ping Sweep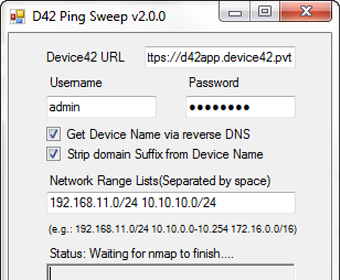 No more dependency on ironpython with this new version of Ping sweep. Hence the install file size has gone from 5MB to 323KB.
UI Change
We are taking away ability to export to excel for now and start button moves towards the bottom for a marginally larger status box. Status box text can be copied in a notepad for legible reading.
Find those IPs nowhttps://www.device42.com/autodiscovery
You can download the v200 of D42 ping sweep from device42 autodiscovery page. It runs on most 32 and 64 bit windows platforms and requires .NET 4 and nmap 6+ to run.