Though we have external ping sweep tools and scripts that can feed data into device42, many of you have asked for an internal tool for regular ping sweeps from within device42. We are excited to announce the available of this option with v5.5.0. This release includes a number of features to help you stay on top of your IP address management automatically as discussed below.
Scan multiple networks with easy to use ping sweep options
[responsive]

[/responsive]
Simply add the network ranges you want to scan via ping sweep each in its own line and you can run or schedule this discovery.
Assign type from global and individual range levels
[responsive]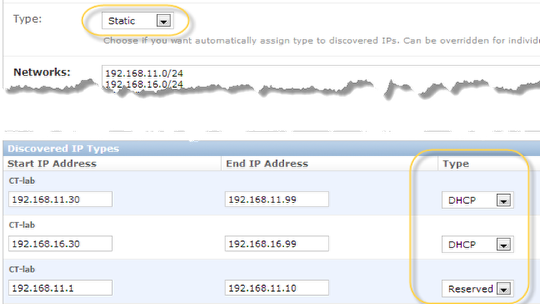 [/responsive]
You can assign type to IPs as they are discovered on the global level. Also, you can override that settings for smaller ranges as per your network settings. This way IPs come in with the correct type already assigned.
Automate your ping sweeps
[responsive]

[/responsive]
Add the ping sweeps to auto-discovery schedule(s). For example, for the network ranges that are DHCP, you can add multiple scheduled discoveries throughout the day.
Automated IP address management with device42
Device42 offers a free trial for its IP address management software that also does server asset management and enterprise password management. Download the ready to go virtual appliance now and get started in minutes!