In v5.5.0 we rewrote the purchase module in device42. v5.5.1 adds purchase reporting and some bug fixes as discussed below.
Purchase reporting
[responsive]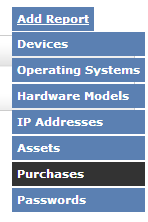 [/responsive]
You can now report on purchases (including line item detail) with various filtering criteria.
Example: Report showing service and/or warranty contracts expiring in next N Months
[responsive]

[/responsive]
You can use this reportGet notified when a service or warranty contract is coming up via new option in the scheduled reports for devices or assets.
Cosmetic Changes
Devices, Assets etc. on the Purchase view page are now links that point back to the respective objects.
Notes are back on the Password list page.
We have also added some behind the scenes changes for internationalization.
Bug Fixes
Some dashboard widgets didn't show up correctly in firefox, which has been addressed.
Device GET API Hard disk components was only displayed if device had CPU/memory properties associated. Now fixed.
We have fixed the slow load time issue for the rack layout page.