We are excited to announce the availability of NFS backup as an option in v5.7.5. Other changes and bug fixes in v5.7.5 are discussed below.
NFS Backups
[responsive]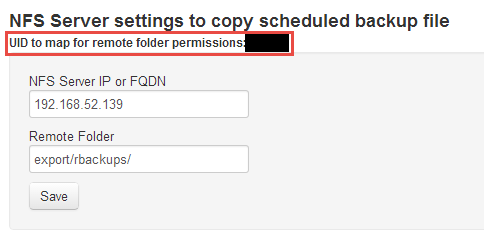 [/responsive]
There is now an additional option to schedule your backups. You can send the backup file to an NFS destination with the new setting. Just add the remote server and folder in the Device42 screen above and, on your NFS machine, map the UID (shown above) with write permission and you are ready to schedule the backup!
Save & Test Backup
[responsive]

[/responsive]
While scheduling your backups – it is important to test if these will run successfully. This is what the newly added "Save & Test Backup" button does.
Clone device button
[responsive]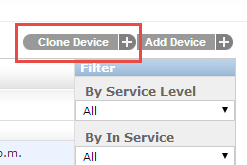 [/responsive]
We added device clone functionality a couple of releases back – now this option shows up next to the Add Device button for easier access.
Device tab Hover over vs click
Based on user feedback – we have changed the device tab change trigger to a click instead of a hover.
SNMP output for D42 support
After going back and forth between the main appliance and appliance manager – we have settled on placing the SNMP data collection command in the appliance manager rather than the main appliance. So Tools | Auto-Discovery | SNMP Output for D42 Support is no longer a menu option in the main appliance. However, "Generate SNMP Output" can be found in the appliance manager and this is what you should use going forward.
Bug fixes
Contract type was not showing in purchase reports – now fixed.
Save and add another for Device was not working correctly, as it was ignoring errors- now fixed.
Cloning devices via clone device was not writing to the history log – now fixed.
Device type was not coming over correctly while cloning a device – now fixed.
v34 Chrome has a bug for certain SVG renderings that affects the rack layout view – we have added a workaround with limited functionality. You will see a warning on the rack layout if you are using Chrome with v34.
Known bugs
Chrome v34.x has a bug rendering SVG with opacity. That means the rack layout page will not render correctly. We have added a workaround to make the display work; however, drag and drop will not function correctly under Chrome v34.