Auto-discovery v5.1.0 has new features as discussed below.
Exclude IP ranges
[responsive]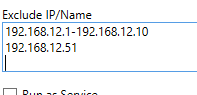 [/responsive]
In addition to excluding single IP address at a time, you can now exclude IP ranges from discovery as well.
Newer linux OS support
v5.1.0 brings support for some newer linux OS like Fedora 20
Bug Fixes
Missing Icon issue for the executable has been fixed.
Know your network with auto-discovery tool v5.1.0