We are very pleased to announce significant enhancements to the subnet tree in v6.3.2. In previous versions, the subnet tree was display only. Now it is possible to make a number of edits directly on the subnet tree.
VRF groups in subnet trees
[responsive]

[/responsive]
Also, subnets are now grouped into VRF groups. Because VRF groups have building associations, the display of the VRF group also contains the building name. (In the example above, the VRF group is "Infrastructure Services" and the building name is "NHC".
Also, you can add new subnets to a VRF group using the red plus button next to the VRF group name.
Nest subnets right from subnet tree page
[responsive]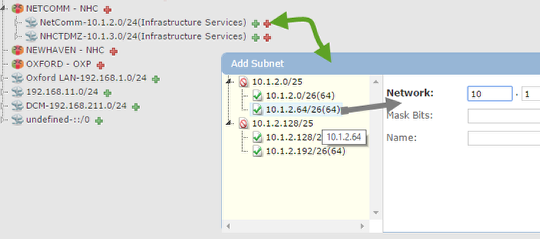 [/responsive]
You can also nest subnets right from the tree view using the red + button after each subnet. If you click the red button next to a subnet, you get a tree like view of available subnets within that subnet that you can click on and choose. You can also drag and drop subnets into another subnet or another VRF group.
Add/Edit IPs per subnet
[responsive]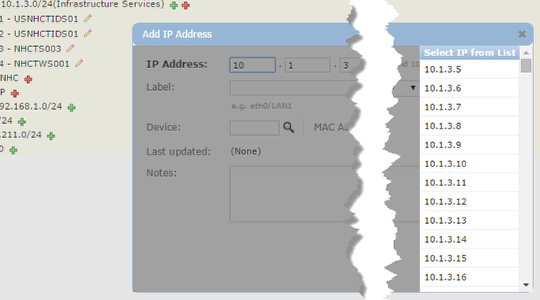 [/responsive]
Using the green plus button after each subnet, you can now add a new IP. When you click the green plus sign, you will see a list of all IPs that don't exist yet in that subnet and you can just pick one for the list.
Also, next to each IP, you will now see a pencil icon that will enable you to edit the IP right from this page.
API Changes
The device GET api gets new filters for hardware models, is virtual host, is it blade chassis, uuid etc. See api.device42.com for more details.
An API call to unmount a device from rack has been added.
Bug Fixes
OpenLDAP integration now works with authentication as well.
Ping sweep backend has been updated for better error handling.
Permissions issue fixed for history API call.
Network auto-discovery issue where the whole discovery failed after hitting on a non-supported device has been fixed.
Azure discovery fixes for services and VM discovery have been added.