New version of auto-discovery client now support services and software auto-discovery for windows and linux machines. All the changes in this release are discussed below.
Windows services auto-discovery
[responsive]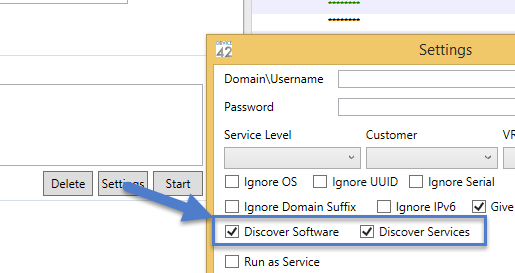 [/responsive]
For each range, you can now enable Services Auto-discovery. It will bring in all the services from windows machines. We have some filters in place to ignore OS level services. Within Device42 UI, you will see services, which is top level a service and each service will have "service details" which shows the machine the service was discovered on with the enduser it is running as. With that you can also see the services from device or user level.
Experimental support for linux services auto-discovery
Similarly, we will discover services running on linux machines as well. It only brings in services registered with the system. Support is experimental as we are still working on getting some more data around it.
Experimental software discovery for windows and linux devices
We will also discover the software that is installed on windows and linux devices. Windows discovery gives lot of details like version #, the install date and some more data. Linux discovery only shows the software registered with system level installer package (whether it is yum/apt based on distribution). In Device42, you can see the software, what machines it is installed on with different version #s etc.
Managing not needed software or services
[responsive]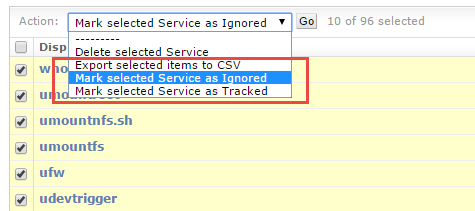 [/responsive]
One of the challenge of auto-discovery for software/services is that sometimes you get too much information. For that matter, we have added a bulk option within the main app to ignore not desired software or services. Once you mark these as ignored, next auto-discovery job will not bring in those services or software for any machines.
Bug Fixes
In the hostname line split in auto-discovery tool was not working correctly. Now fixed.
Windows 2003 CPU detection had some issues because of a MS issue to get the core count. Modified the tool to bring in the CPU count and speed and assume core to be 1, if not present.
Ignore domain suffix was being ignored for certain cases. Now fixed.
Automate your IT Inventory