Device42 recently completed software integration with Atlassian's JIRA – a leading IT service management software and the integration connectors are available in the Atlassian add-on marketplace.
Integration Capabilities
The Device42 add-on enables JIRA users (JIRA Server 6.0 6.4.7) to integrate Configuration Items (CIs) data provided by Device42 with JIRA service workflow items. More specifically, the integration enables users to:
Link CIs to issues in JIRA. Once Device42 CMDB data is synchronized, device or rack CI's on a JIRA issue can be linked a Device42 screen (in a new tab) with details of that object
When creating a JIRA service issue, select configuration items (CIs), such as devices or racks, directly from a dropdown menu of CIs
When creating a JIRA service issue, users can search for the Device42 CI inventory using the object/CI names.
With access to asset information within the JIRA service ticket, IT staff can more efficiently respond to and resolve device related service tickets.
Additional JIRA Connector Information
[responsive]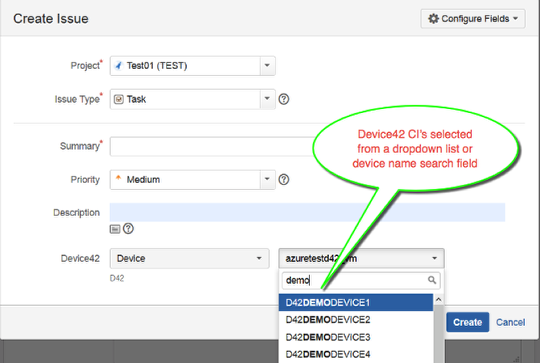 [/responsive]