We are happy to announce following changes in v7.2.2
Enhanced drag and drop between racks
[responsive]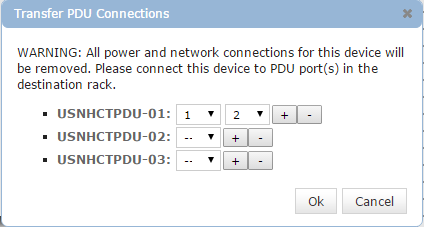 [/responsive]
When you drag and drop a device from one rack to another, you now get prompted to select what PDU ports you want to connect the device to. You can choose 1 or more ports per PDU.
Ability to mark network and broadcast IPs as usable for enhanced IPAM
[responsive]

[/responsive]
You can now mark network and broadcast address as usable for a subnet. With this, you can add the network and/or broadcast IP address to your IPAM.
Subnet usage tree expanded upto /32
Subnet usage tree as introduced in v7.2.0 was limited to "/30". It has now been extended upto "/32".
Custom fields for parts
You can now add custom fields to parts.
Events for parts history
Parts history now has an events drop down where users can add their own events.
API changes
"allow_network_address" and "allow_broadcast_address" added to subnet POST and PUT calls.
Bug Fixes
If the ignore VLAN list was empty in the network auto-discovery job, VLANs were not being added. Now fixed.
Filterable custom fields for subnets were not working correctly. Now fixed.