End of Life & End of Support Tracking with Device42
for Hardware, Software and Operating Systems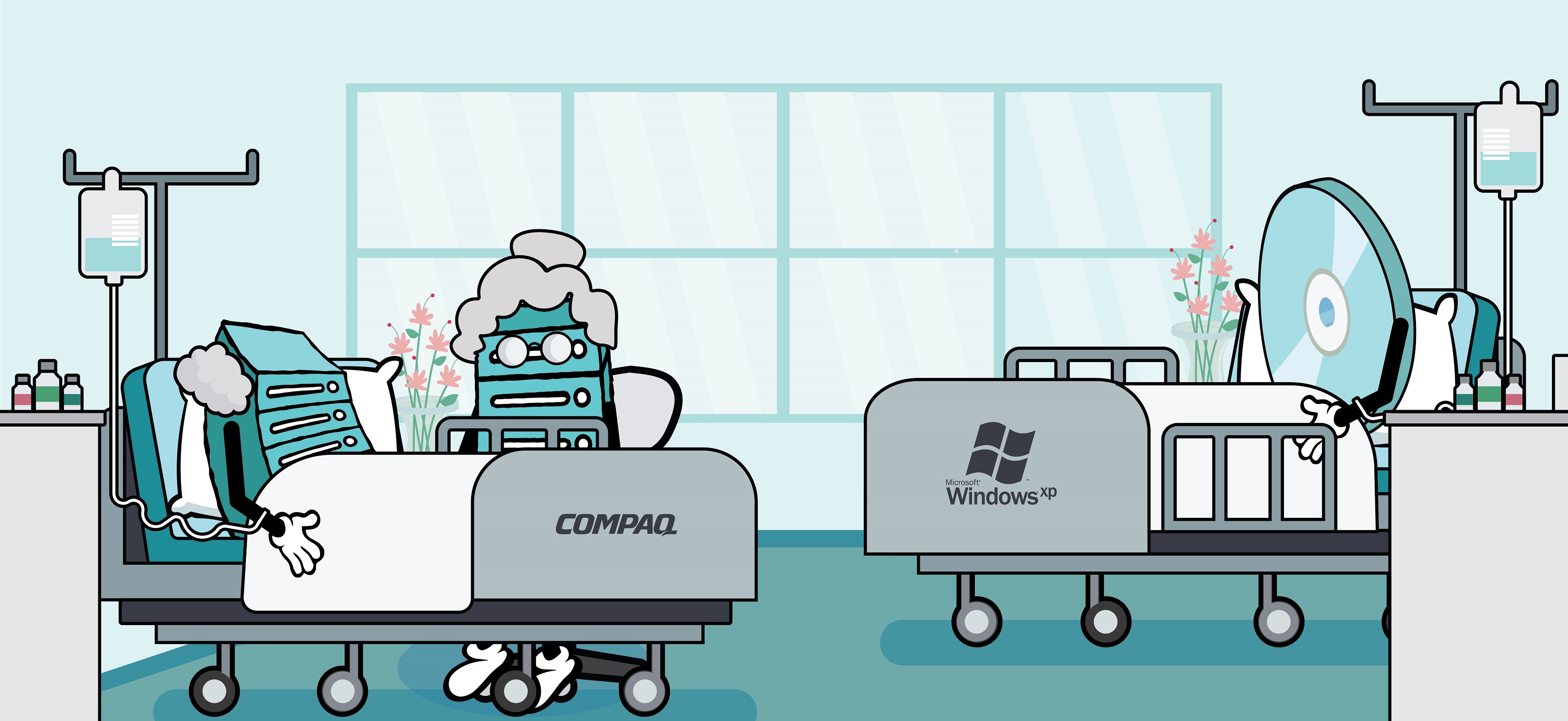 The software and hardware products that you rely on to power your business have limited lifespans. Most manufacturers will announce a hardware and software product End of Sale date and that will be followed by End of Life (EOL) & End of Support date (EOS) announcements – well in advance of those dates. Often, the EOL/EOS dates are so far in the future that one doesn't need to start planning for them until years after the announcement. Others require more immediate action.
Keeping track of EOS and EOL dates is important
In either case, it's critical to track the EOS/EOL dates – even if it's a thankless task. You don't want to be in the position of having a critical security flaw uncovered and not have a way to get a patch.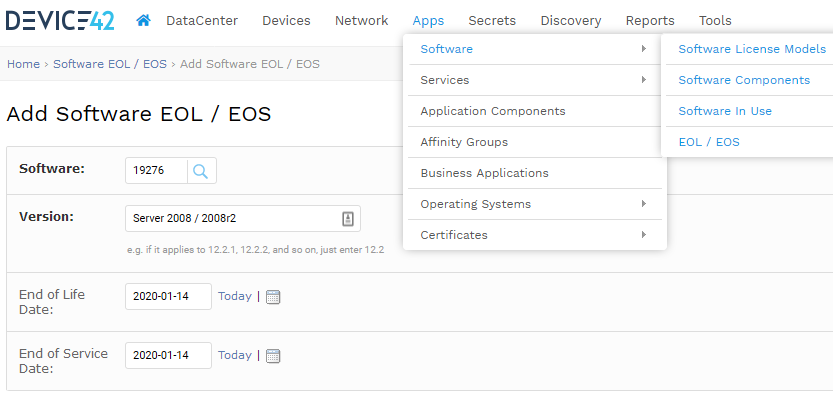 In Device42, you can now add EOL and EOS dates to operating systems and software:
(Software >> Operating Systems >> EOL/EOS) & (Software >> Software >> EOL/EOS). For more details on tracking this and other lifecycle specifics, see our Lifecycle documentation.
The algorithm matches any versions that start with the version number you specify when creating the EOL/EOS entries. For example, if you specify version 11, it will match 11.1.1, 11.3, and 11.5x. The EOL/EOS data is displayed on the view pages for devices, and is also visible in reports. 
Tracking EOL and EOS has real benefits:
Always know ahead of time when software is going end of sale or end of life

Avoid sudden EOL emergencies or vulnerabilities that could result in costly downtime

Get alerts when an EOS date approach so preparations can be made to migrate away

Get an email if a piece of software that has been marked EOL is found running
Take for example Cisco's EO Sale, and EO Service / End Of Life policy. Essentially, once a product goes end of sale, you have 12 months to ensure it has a maintenance contract. Past that 12 month period, and you can no longer purchase one. You can keep an existing contract alive for 5 years from the EO Sale date for hardware, and two years for software; however, if there ever is a lapse in renewal, you lose support – for good.
Replacing Hardware and Software takes time and planning
Though it is best practice to plan to replace hardware as soon as it goes End of Sale, and especially [almost universally] so when it goes EOL, some vendors do offer extended support plans for hardware existing in that limbo period between announcement of End of Sale and finally the declaration of End of Life, even if sometimes inconvenient to comply with, especially when the device or software product still works and serves its purpose as designed. These new Device42 features make the organizational chore of staying on top of your hardware and software's EOS and eventually EOL dates easy, and when used in conjunction with Device42's support contract tracking & notifications functionalities, ensures you are never caught off guard, and are always in compliance with maintenance requirements.
Device42 ensures you are on top of it
Running a product past end of life is in most cases not a good idea, and less so the more critical its role. In those cases where you must do it while you wait for budget or solidify plans for replacement, you can count on Device42 to watch your back (grab a copy if you don't have Device42 already!). Do you run any critical infrastructure pieces you just can't let go? Have plans already for how you'll be using the new EOS / EOL functionality? We'd love to hear from you! Please do leave a comment below, and feel free to ask any questions you might have as well!