Want to try Device42, but don't have access to a corporate VMware or other virtualization solution? No problem! Read below to get set up to try Device42 on the PC of your choice, for free, with VMware Player!
You can go on to use what you learn here to run any one of hundreds of different pre-built VMs and virtual machine software products available all over the internet — you might even want to build your own when you're all finished!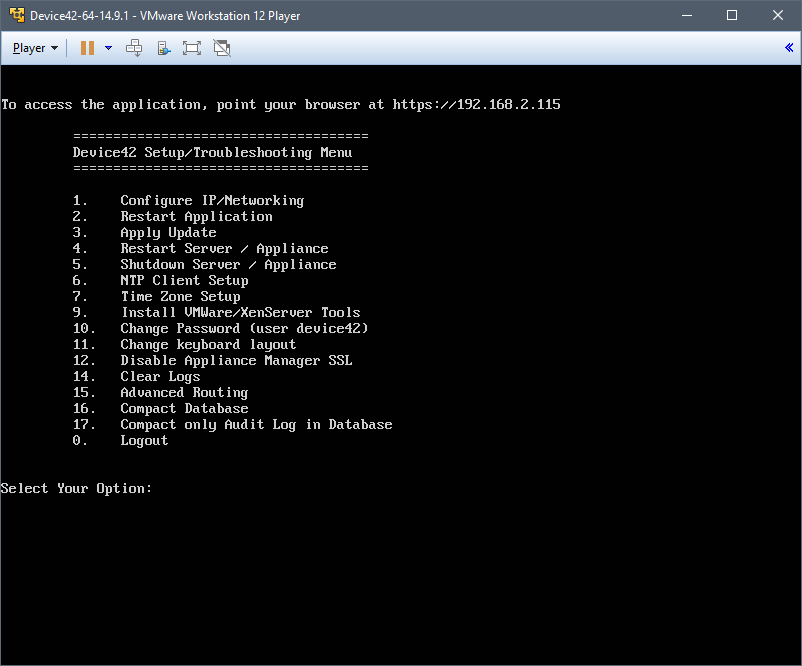 While you read: Start the Device42 Download [click here] so it's finished by the time you need it!
What is VMWare Player?
What is VMware Player? VMWare Player is a virtualization platform – a piece of software that 'emulates' (virtualizes) all the hardware (parts: CPU, RAM, HDD, etc.) of a physical PC in software. As far as the "guest" operating system is concerned, it thinks it's running on an actual, physical PC (technically, modern OS's are virtualization aware, but this isn't important for understanding virtualization).
The VMWare (Workstation) Player website describes it well:
"VMware Workstation Player allows you to run a second, isolated operating system on a single PC. With many uses ranging from a personal educational tool, to a business tool for providing a simplified experience to run a corporate desktop on a BYO device, Workstation Player leverages the VMware vSphere hypervisor to provide a simple yet mature and stable, local virtualization solution."
What do I need to run the Device42 Virtual Machine with VMware Player – and how long does it take?
Getting a trial for Device42 up and running isn't too hard, and is rather quick. If you are starting from scratch, you can probably be ready to go in under 30 minutes.
Once everything is downloaded, you can actually have Device42 up and running in the time it takes for the virtual appliance to boot up [about the time it takes for a normal, physical computer to "boot" up; just a few minutes, or less].
If you don't already have direct access to a corporate VMware ESXi instance, fret not!
Free Virtualization Options Are Powerful, Too!
There are a handful of great free, open source or low cost virtualization solutions available — for any working budget. You'll be fine with VMware player (completely free), VMWare Workstation, Virtualbox (free and open source), or another platform. Bonus: The free platforms are rather powerful, often running same engine as the enterprise solutions under the hood – so if your trial budget is zero, don't beat yourself up! This post will set you up with everything you need to do a Device42 trial and proof of concept demonstration!
As mentioned, as far as running virtual machines go — the free platforms are often just as capable as the paid / professional versions, just lacking many of the convenience and/or high availability features that are more critical to running production workloads 24/7, and not-so-important to someone simply trialing software, or running some 'hobby' or 'research' Virtual Machines with VMWare player.
OK, Let's Get Started!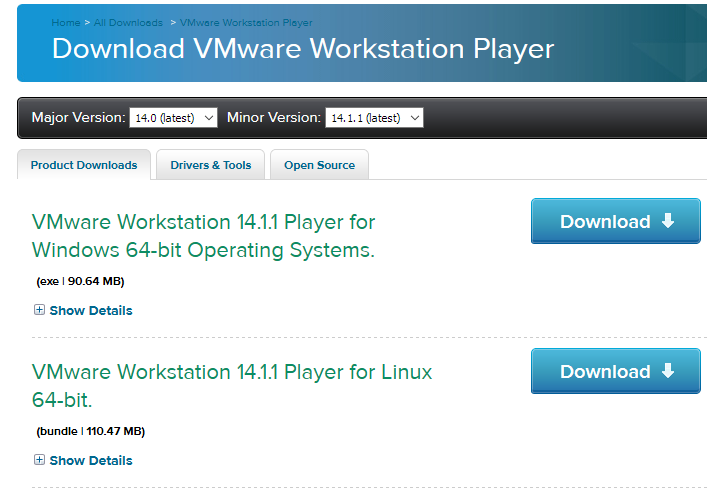 If you don't want to pick a virtualization platform, worry not – We'll pick for you! Grab VMware Player (click here for the VMware Player download page) – It's totally free to use! [If you're on a Mac, you can still follow along, but VMware Player is Windows or Linux only; you have two choices: either use bootcamp, or if you're a bit more adventurous, you can use virtualbox since they have a ready-to-use mac install image. Find it here!]
Download and Open the Device42 Virtual Appliance "VM Image"
Once you've downloaded & Installed VMware player, download Device42! The full version is free to try for 30 days – It's not a "trial" or "shareware" — It's 30 days of the full feature Device42 platform; the real, production software! Simply click this link, and provide your name & email to download the Device42 VM image!
If you feel up to it, you could fill out our "thank you" survey and let us know how you found us – it's super helpful, and we really appreciate it. If not, you can close the tab and continue below.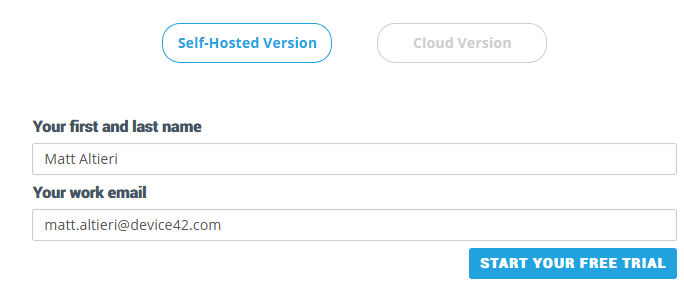 We'll cover the procedure for VMware Player here, but if you'd like to use another hypervisor, we have the procedure documented for many popular hypervisor platforms on the Device42 DOCS site! – We've got instructions for hypervisors like VMware vCenter, Citrix Xen, VMware Workstation, etc.
You'll want to run VMware player (double click the icon, or find it in your start menu) and from the main screen, choose "Open a Virtual Machine", select the Device42 .vmx file you downloaded, and press "OK".
Once you've got it opened, simply select it so that it's highlighted, and "Play Virtual Machine".  Device42 will go through a boot procedure, just like the one you're used to seeing for your own computer [maybe a bit different — it is Linux!].
Once the machine is booted, look at the "virtual" screen on your VMware player windows. If you can see the IP address, great! Head to it in your browser. If you're having trouble seeing it, you can use the keyboard shortcut [CTRL + ALT + ENTER] to go full screen, which will make it much easier to see.  You can edit your network settings as per the documentation if you need to, but DHCP should have taken care of this for you! Use the same key sequence to exit full screen again [CTRL + ALT + ENTER].
Simply visit the IP address you see (or configured) in your favorite browser, and use the default Device42 credentials to log in! (user: admin pass: adm!nd42).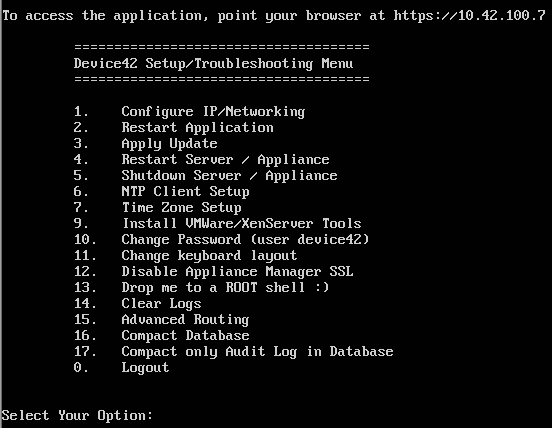 From this point on, VMware Player [your hypervisor] does all the heavy lifting involved with running the Device42 virtual appliance in the background. Since we'll be accessing the software itself via a web browser, going forward you can actually minimize VMware Player (just be sure you don't exit and shut down the virtual machine!).
Install Device42's Windows Discovery Service
Device42 uses a single, lightweight instance of its Windows Discovery Service to proxy Windows WMI and WinRM discovery calls. It only needs to be installed on a single windows machine. Install WDS on any Windows PC that can talk to the network(s) you plan on discovering (note: though you only need one, you may use more than one WDS instance, Remote Collector, or even agent if it makes sense for your network, or if you simply desire to do so!). Download Device42's WDS here, and double click and follow prompts to install:

During the install process, you'll be asked to connect the WDS to an RC (or to the main Device42 appliance). Simply head to Device42's Menu:
TOOLS → Autodiscovery→ Remote Collectors → Generate OTP:

…And input that OTP (one-time-password) into the WDS setup when prompted: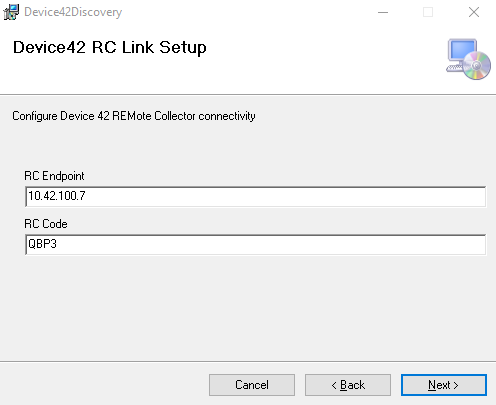 If you have any questions about WDS, see the WDS documentation here.
Go Ahead and Configure Your First Discovery
Now you're ready to discover – your infrastructure via Device42's comprehensive autodiscovery, as well as Device42 itself.
If you have a discovery target in mind, great! However, if you don't have any exciting corporate systems available to discover yet, go ahead and point Device42 at your own laptop to get a feel for the process: TOOLS menu → Auto Discovery → Hypervisors / *nix / Windows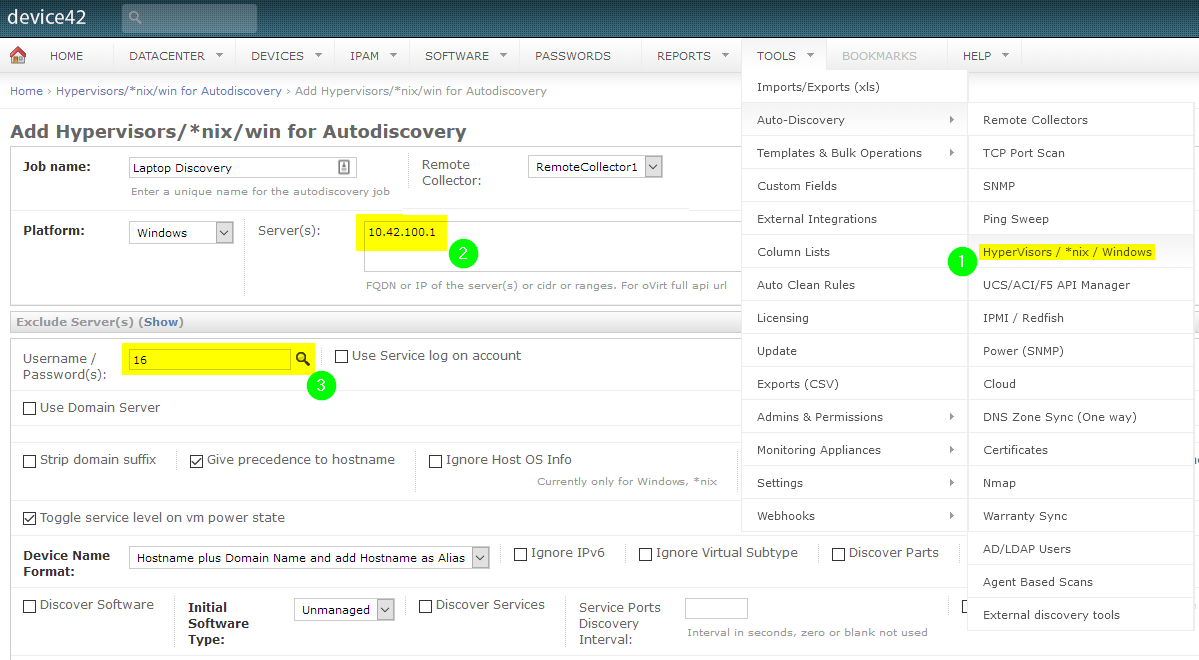 Save the job you just created, and then go ahead and run it. Need more help? See our "Getting Started with AutoDiscovery" here.
If you run into something that isn't answered on our docs site, try our how-to videos.
There's so much more you can do, integrations to explore, and more – and now that you're up and running, you've got a 30 day free pass to Device42 – so get exploring!
Happy discovering!
---
If you have any questions or comments, leave a note below, or email [email protected]. If you'd like to see something specific as a follow up to this article, let us know – we're ears wide open!
If you still need to download a trial of Device42, it couldn't be easier — Just Click here!