Sometimes, it's the little things that really make a difference. Talking with our support engineers, we realized that some of our favorite time-saving tips might not be in widespread use. These tips simply make it easier to do things you already do. Afterall, who wants to spend *more* time documenting your infrastructure when you don't have to?
Take 5 minutes and learn 5 quick Device42 tips that can help you get more from Device42 with less effort!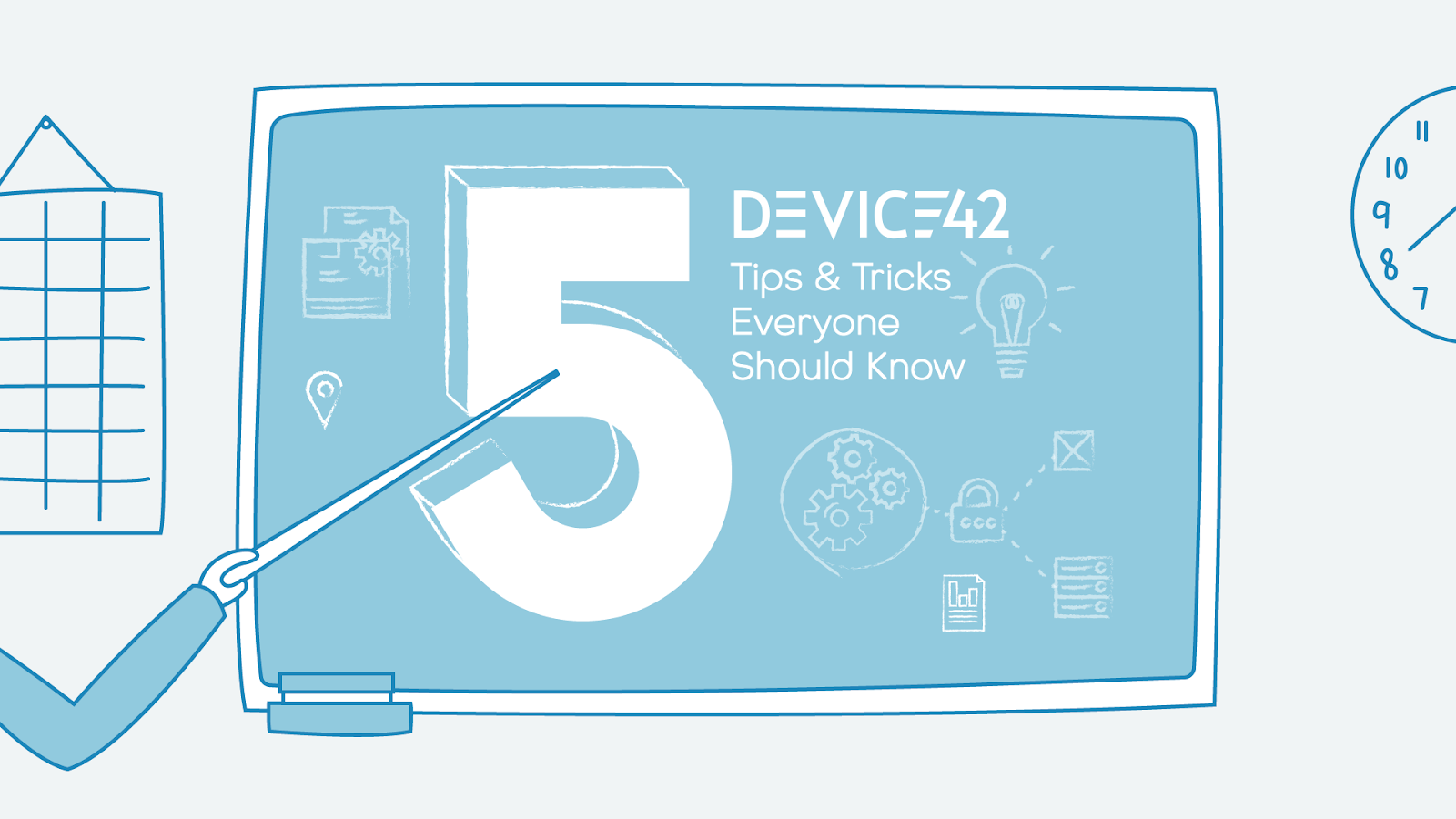 Now, let's get right to the tips and tricks:
1) Use ping sweep to pre-map your networks, to discover live IPs, and to speed up discovery jobs — not to discover devices. Use other native discoveries to discover devices and their details!
Why? Using ping sweep this way can shorten your discovery times significantly. Using it to discover devices, though an option (via reverse DNS), isn't the best usage of the tool (for most users). It can absolutely work if your DNS is squeaky clean, however many of us who are leaning on discovery the hardest to generate accurate documentation will find that ping sweep can create duplicate devices, which then will have to be cleaned up.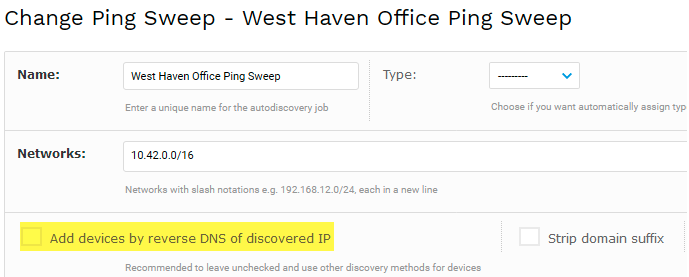 You'll likely find it's best to use native discoveries like SNMP, Windows (WMI & WinRM), Linux (SSH), and Hypervisor to discover devices and device details!
No fun!
2) Use Device42's "hidden menus" to customize field names (HW Component type names, etc.), and using the built in breadcrumbs, edit these like any other device!
Note that you can't edit or delete system-defined objects, but you can get to any referenced object and make changes to suit your needs! Check out the example below, where we re-name "NIC" to a name that suits us better!
3) Bulk Hardware Edit, Change type for Selected Devices:
Did you run a discovery without specifying the device type ahead of time? Or, maybe you have a mixed bag of devices, and instead would like to classify them all without doing it one by one? You could write a script that uses the API — And that would work, but why not just do it the easy way?
Since you know that you use only Dell & Lenovo Physical Servers, everything else is you've discovered is virtual, and you already know that. Don't you wish there was an easy way to set those device types appropriately?
There is! Simply type "Dell" (for example) into the search box: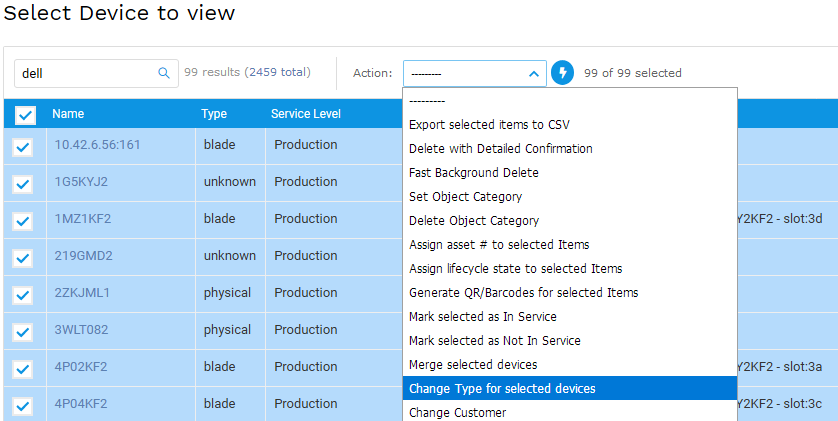 …and change type for selected devices! Choose the type (physical, in this case) and confirm, and you're all set!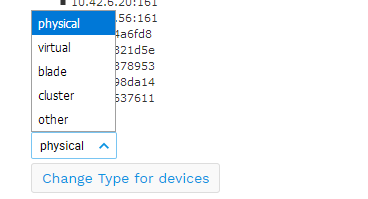 4) Smart Merge VLANs:
Have you run network discovery against multiple switches, and so discovered the same VLANs tagged in multiple places? If you aren't an ISP or renting hosting space, and don't expect to have multiple disparate VLANs using the same VLAN numbers (use VRF groups for this, if you do!), use smart network merge to merge them!
Simply head to your VLAN list page (via the Network menu), select ALL VLANs, and choose "Smart Merge"!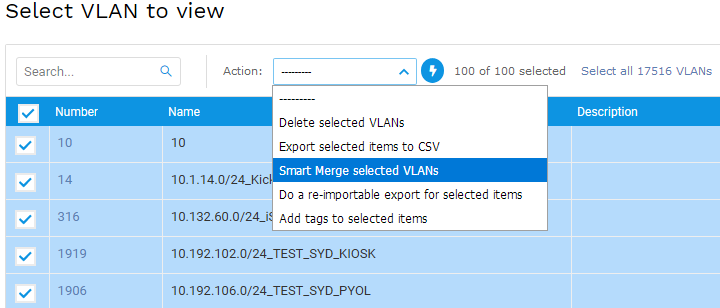 …Oh, and if you have many, many pages of networks (or even more than a couple..!) and don't want to select all manually on each page? No problem! See tip #5!
5) Select *ALL* CI's with the "Select ALL" link — (beyond the visible page)
Let's say you've browsed to your devices page, and you want to select ALL your devices. Not just the all the devices on the first page, but really, ALL of them. There's a link for that! Check the "Select All" checkbox at the upper left, and you'll see the "Select all X Devices" link appear.
You can do that! Select that link to apply the selection to all devices (or all objects); not just the visible ones! You can smart merge, re-classify devices, etc. — with a lot less clicks!

You can also click again to clear the selection, or go ahead and choose an item from the action menu to apply an action to ALL your CI's (even the ones you can't see)!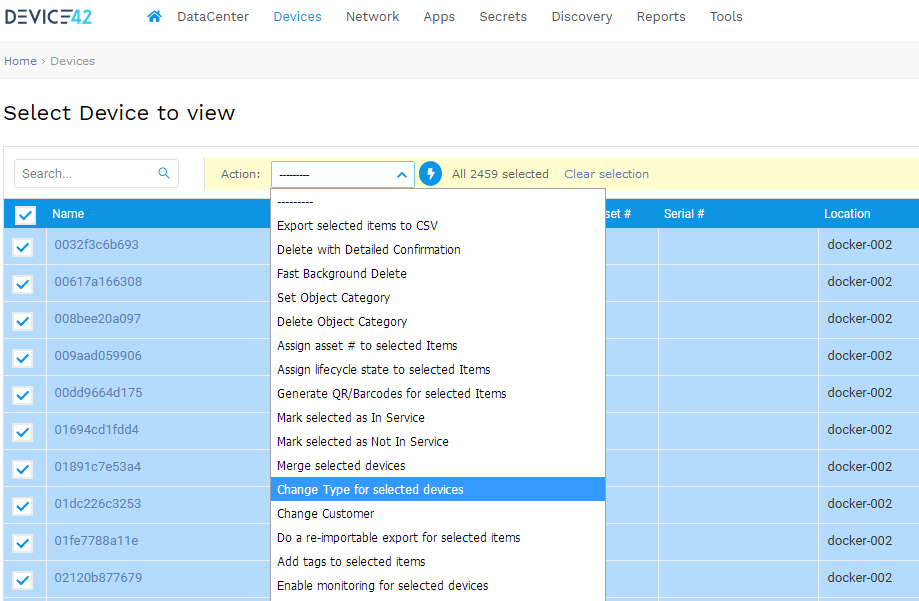 We hope you enjoyed these quick Device42 usage tips. Even if you were familiar with all of them but one, you'll still save time!
Do you have any tips you think other users would appreciate? Let us know in the comments, or email [email protected] with the subject "Device42 tip"! If we get enough unique tips, we'll follow up with a post featuring your user-submitted tips and tricks.
---
Device42 users already have first-hand experience with the benefits automating the discovery and documentation of IT assets bring to the table. Gone are the days of putting the same information in multiple places; No more struggling with Excel spreadsheets to track networks, or drawing Visio diagrams manually to show your boss which application dependencies are critical for next week's big maintenance or that upcoming migration. Experience it for yourself!
Download a trial of Device42; it couldn't be easier — Click here to get started!