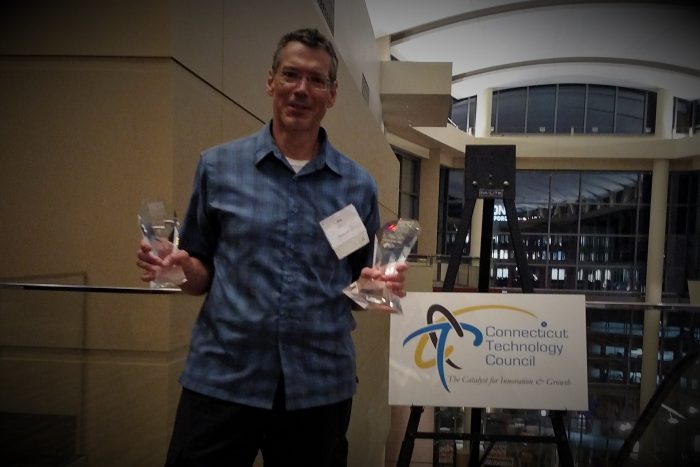 New Haven, Conn., October 10, 2018 – The Connecticut Technology Council (CTC) and Marcum LLP have recognized Device42 as the No. 1 fastest growing tech company in Connecticut with nearly 1300% growth as well as No. 1 in the Software Category in the Marcum Tech Top 40 (TT40). Device42 accepted their awards alongside 39 other companies at an awards ceremony held October 3 at the Connecticut Convention Center in Hartford.
The Marcum Tech Top 40 is now celebrating eleven years as the premiere awards event honoring Connecticut's fastest growing tech-enabled companies, and has been the standard of achievement for growing companies in Connecticut for over a decade.
2018's honorees are a diverse set of businesses from around the state. Eleven companies are publicly traded, and eight have annual revenues greater than $1 billion. The Marcum Tech Top 40 has honored over 400 Connecticut-based technology and tech-enabled companies since 2008. The awards recognize technology leaders in six industry sectors: Advanced Manufacturing; Energy and Environmental; Life Sciences; New Media, Internet, and Telecom; IT Services; and Software. Tech Top 40 companies are both privately and publicly held, must have at least $3 million in annual revenue, and a demonstrated record of revenue growth in each of the preceding four years.
"Marcum is extremely proud to partner with the Connecticut Technology Council to present the Marcum Tech Top 40 Awards which honor some of Connecticut's most innovative companies," said Michael K. Brooder, CPA, Marcum's office managing partner in Hartford, Connecticut. "This annual program over the past 11 years has allowed us a fascinating glimpse into the forward thinking that keeps Connecticut on the forefront of technology innovation and business leadership. We heartily congratulate this year's class of winners and look forward to watching their continuing contributions to Connecticut's business environment."
Bruce Carlson, CTC's President and CEO added, "Growth in Connecticut must and does come from the technology sector, and these Marcum Tech Top 40 companies are exemplary of the achievements within the industry we represent in the state. As part of the ConnectiTECH Awards, the Marcum Tech Top 40 lauds the leaders in tech in Connecticut, and inspires more to follow suit."
"Now more than ever, CTOs and CIOs need to have up-to-the-minute snapshots of their entire IT infrastructure, including system inter-dependencies and security vulnerabilities," said Raj Jalan, CEO and founder of Device42. "A commitment to the needs of our customers has positioned us for extraordinary growth, and we are honored to be recognized as the fastest growing Connecticut tech company."
About The Connecticut Technology Council
The Connecticut Technology Council is a statewide association of technology oriented companies and institutions, providing leadership in areas of policy advocacy, community building and assistance for growing companies. Speaking for 2,500 companies that employ some 200,000 residents, the mission of the Connecticut Technology Council is to spark innovation, cultivate tech talent, foster business growth, advocate for industry-beneficial law and policy, expand the scope of industry networking and professional development, and celebrate industry achievements in the state. The CTC seeks to serve Connecticut's technology ecosystem by providing leadership, support, mentoring, and advocacy to companies across every industry and at every stage of growth. For more information, visit http://www.ct.org.
About Marcum LLP
Marcum LLP is one of the largest independent public accounting and advisory services firms in the nation, with offices in major business markets throughout the U.S., Grand Cayman, and China. Headquartered in New York City, Marcum provides a full spectrum of traditional tax, accounting and assurance services, including advisory, valuation and litigation support, and an extensive range of specialty and niche industry practices. The Firm serves both private and publicly traded companies, as well as high net worth individuals, private equity and hedge funds, with a focus on middle-market companies and closely held family businesses. Marcum is a member of the Marcum Group, an organization providing a comprehensive array of professional services. For more information, visit www.marcumllp.com.
About Device42
Device 42 Inc. is a leader in the Data Center Infrastructure Management (DCIM) software field, delivering comprehensive, high-value solutions that enable organizations around the globe to quickly, easily, and effectively manage their complex IT infrastructures. Device42 software centralizes data center management making IT assets visible, understandable, and controllable.
Companies around the globe use Device42 to identify, visualize, and manage devices (whether physical, virtual, or cloud), networks components, software, services, supporting infrastructure, and more. With a familiar, convenient web-based interface, Device42 helps data center managers understand network interdependencies, improve network security, plan and execute migrations, and mitigate the impacts of planned and unplanned IT network changes.
Try Device42 for yourself today – download now:  https://device42.com/download/