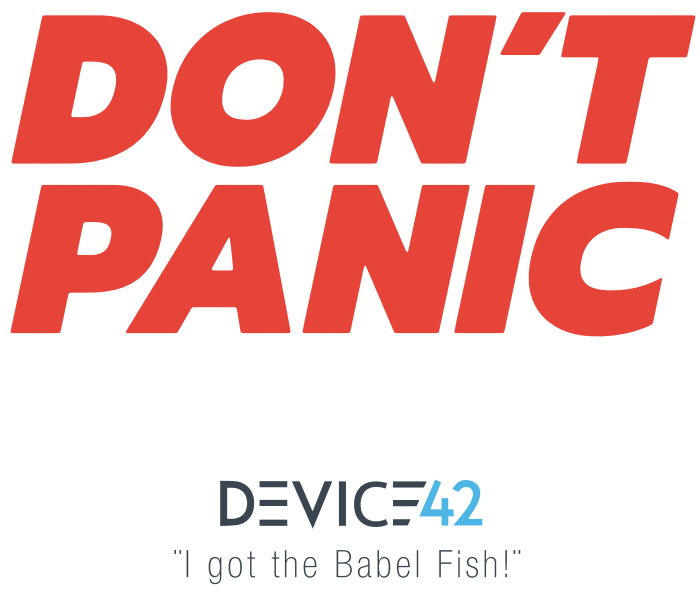 We're happy to announce we had an outstanding response to the 2019 Towel Day giveaway! Thanks for taking the time to celebrate with us!
The promo is now over, so if you haven't heard from us, please double-check your inbox! No new entries, please!
Happy TOWEL DAY!
Device42 is happy to honor Douglas Adams and The Hitchhiker's Guide to the Galaxy by hosting a Towel Day celebration, and we'd love it if you'd join us in the fun!
How? It couldn't be easier:
Simply
share this post via
Twitter
or
LinkedIn
with hashtag #D42TowelDay, and we'll send you an official Device42 Towel – FREE!
(Everyone knows a towel is the only thing an intergalactic hitchhiker needs!)
Your new towel will come in handy for so many things:
Drying off from a dolphin splash!
Wet, for use in hand to hand combat — keep those Vogons at bay!
wrap it round your head to ward off noxious fumes or to avoid the gaze of the Ravenous Bugblatter Beast of Traal…
…or, simply wrap it around yourself for warmth should you find yourself on Magrathea!
You'll also find your new towel to be quite useful in your data center!
Clean up that coffee you just spilled (or tea, if you're Arthur Dent), fan your servers to keep 'em cool, and then wipe that sweat off your brow.
While you're at it, please do go ahead and download Device42! Device42's comprehensive discovery will create a near real-time map of your datacenter and all of its critical dependencies, making your life in the IT world oh so much easier. With Device42, you can spend your whole day out to lunch like Lig Lury Jr. (though we don't recommend it).
So go ahead, download already, and become a hoopy frood like the rest of our customers! Let Device42 take care of all your data center and IT infrastructure needs!
---
Contest Guidelines:
Contest limited to 100 shares, or 9:00am June 6th, 2019, whichever comes first!
Only eligible to ship to the USA and Canada.
Entries limited to one (1) entry/share per individual. (no cheating!)
We'll track down posts via the hashtag, and reach out via social media! So don't be afraid to respond to our DMs.
We'll need your company email and shipping address too!
We will NOT sell your address or use it for anything nefarious (but it may be used in Vogon poetry).
No purchase necessary, purchase doesn't enhance your chances of receiving at towel.
Winners will be reviewed and contacted after June 6th!
PS: Always know where your towel is; Should you misplace it, DON'T PANIC!
Should you have any other questions — the answer is 42 (aka Device42 – Click here to download, free!)