Enjoy Rapid Vulnerability Identification for Accelerated Remediation


Device42 is excited to announce our partnership with Risk Based Security's VulnDB, which leverages the VulnDB database to add software vulnerability detection to Device42. With Device42 + VulnDB, users can quickly uncover software vulnerabilities across the entire IT enterprise.
Get valuable information including impact details and problem locations, which can be quickly prioritized by CVSS (common vulnerability scoring system) score. Now, teams can remediate more efficiently: never overlook another CVE/vulnerability announcement again, and be certain no affected system goes un-remediated without your knowledge!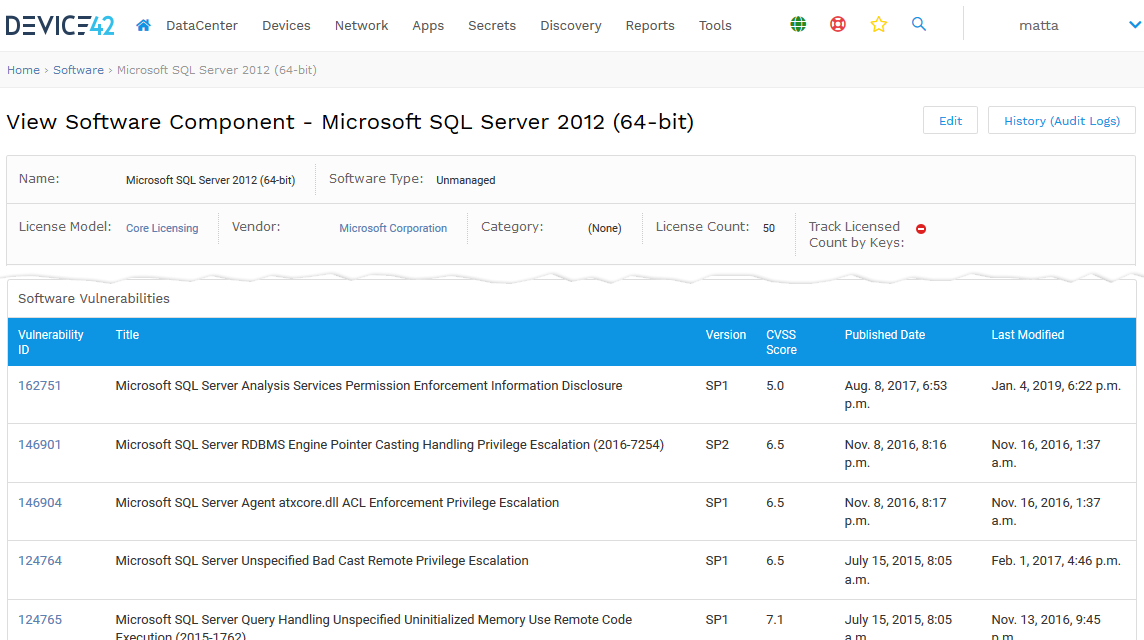 The Challenge
There are numerous products on the market that can detect vulnerabilities on your networks, but most are likely to overwhelm you with information. The challenge is correlating each affected software instance to its physical location, locating the machine owner, and determining the downstream impact.
How do you efficiently sort through, make sense of, and prioritize what can often be an overwhelming amount of information?
The Device42 + VulnDB Solution
Device42's solution maintains an up-to-date database of your entire IT infrastructure, which includes the software assets deployed across your enterprise, mapping all of your applications with comprehensive auto-discovery.
We've teamed up with Risk Based Security to leverage their industry leading VulnDB database to get near real-time vulnerability information, which is cross referenced against all of your deployed software. With Device42 + VulnDB, you are immediately alerted to serious vulnerabilities, and you can generate and even customize reports to get all the information you need to quickly create detailed remediation plans.
Instead of a sea of overwhelming information, you'll enjoy concise, actionable data – exactly the information you need to get your vulnerable systems patched quickly.
Stop wasting valuable time correlating generic security reports, finding required remediation data, and manually determining user impacts
Eliminate the tedious, manual work of trying to identify instances and locations of affected software, and triaging their respective support teams
Instead, spend that time remediating!
How it Works:
Your Device42 CMDB contains information about all the software installations that exist across your infrastructure, and is constantly scanning your network for new software
All your software is now automatically cross-referenced against the VulnDB database – the industry's most comprehensive vulnerability database, containing over 205,000 vulnerabilities including thousands not found in CVE/NVD, and covering over 23,000 vendors – locating any relevant CVEs & Vulnerabilities
Have an accurate and up-to-date picture of the software risk across the enterprise on-hand at all times
Spend less time sorting through data and planning, and get right to remediating!
Try Device42, free for 30-days @  https://device42.com/download