Cloud Migrations, Simplified.
As cloud computing has proven itself as reliable and cost-effective, cloud-first has become a norm across organizations of all industries and sizes with the cloud becoming the go-to for both infrastructure expansion and/or new functionality. With this increased confidence, even organizations who have continued with to on-premise infrastructures have begun to seriously look towards the cloud.
But even with the cloud confidence hurdle cleared, we often see organizations struggle to finally begin their cloud journey. Challenges often emanate from a lack of true understanding of the underlying infrastructure, which often is the result of outdated, non-existent, or in the worst cases, incorrect documentation. Others struggle migrating existing applications and services due to the sheer complexity of their IT estate.
No matter if your organization is looking to the cloud for the first time, wants to expand to the cloud, or wants to move an existing application or service, Device42 understands what a successful cloud digital transformation requires: a complete understanding of the current state of existing infrastructure, and all application dependencies.
While traditional discovery tools have struggled to accurately and automatically capture the complete picture of existing infrastructures, Device42 prides itself on offering one of the industry's most comprehensive agentless discovery tools. Many discovery products struggle to capture key details about existing infrastructure, leaving IT managers feeling uneasy when it comes time to upgrade and/or migrate. Device42 leaves nothing to chance, completely discovering the entirety of your existing infrastructure, including dependencies and resource usage details.
This data is then used to create Device42 'Affinity Groups', each of which includes all the dependencies around a given service. Beginning with one or more Affinity Groups, IT managers can build a Business Application, which accurately models even the most complex business processes. Far from a "hope and pray" approach to lifting and shifting services to the cloud, simply export a Business Application and you can be certain your critical applications will function as they should in the cloud.
Device42 is therefore excited to announce it worked with Microsoft Azure and is now integrated with Azure Migrate as a discovery and assessment software tool.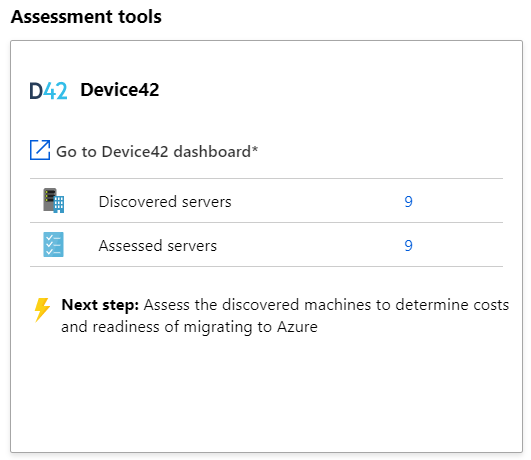 As a suggested option for infrastructure discovery and assessment, Azure customers will now be able to access and install Device42 right from Azure Migrate. Once Device42 is up and running and has had time to discover your existing IT infrastructure, migrating an application to Azure is as simple as choosing the Business Application you'd like to migrate in Device42 and choosing "Export" to Azure. Device42 will then go ahead and export all the relevant details for your chosen business application(s), including all dependencies, as well as the relevant resource usage analysis and the current server/VM configurations. The built-in cloud recommendation engine will automatically suggest target instance sizes on  Azure, and then all that's left to do is head back to Azure Migrate and kick off the migration.
Getting your digital transformation underway is as easy as 1-2-3: Simply Download, Discover, & Migrate!
Interested in learning more? Check out the Azure Migrate documentation.
Download Device42 to get started today – Try it free for 30 days!