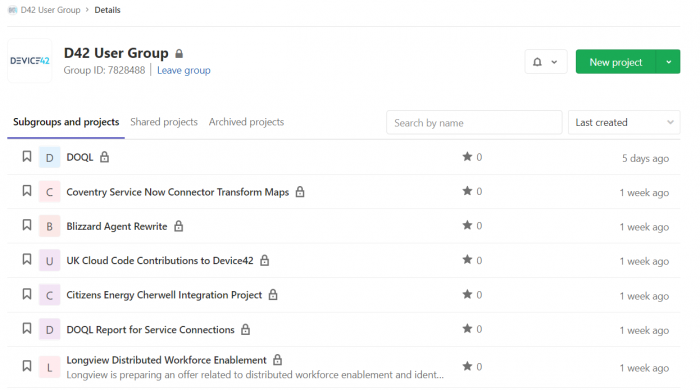 Do you ever wish you could collaborate with other Device42 users? Find out some of their secret moves? Share some of yours? Well now you can.
Device42 is excited to announce the launch and immediate availability of our new Customer and Partner GitLab Portal. The portal is a private forum for Device42 customers, partners and employees to collaborate and share reports, scripts, custom integrations and best practices, so you can get the most out of your Device42 deployment.
In just a short time since its launch, customers and partners have really been taking advantage of what the portal has to offer: contributing and collaborating scripts and projects which benefit everyone.
There are several subgroups and projects to choose from in the forum. Whether it's building a DOQL report for Service Connections or performing a Cherwell integration project, there's something to benefit everyone. If you can't find the project you want, you can create it. And if you can't find the subgroup you want, we'll create it for you. Afterall, it's your forum.
The Device42 user group is an easy way to get together with other like-minded individuals who use Device42 on a daily basis. If you ever run into a challenge using Device42, there's a pretty good chance someone has already overcome it. Why reinvent the wheel?
The portal is free to use and limited to Device42 customers, partners and employees only. Click here to get started today. Reach out to us at [email protected] if you have any questions.