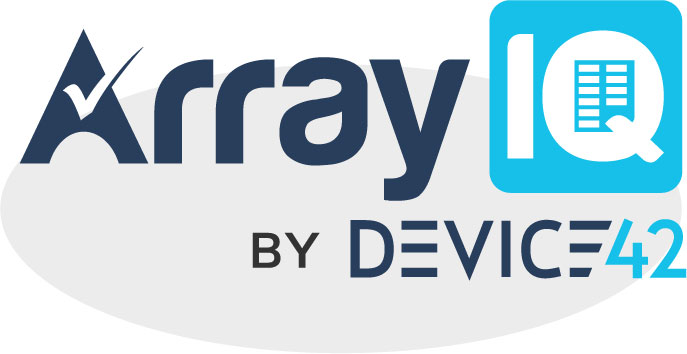 Today is a big day at Device42. We're excited to announce the first acquisition in our company's history: ArrayIQ. ArrayIQ is the leading provider of end-to-end storage discovery and visibility software. Located in Boston, we are delighted to have them join the Device42 family to continue the development of the product.
It's a cliché to say that data is growing exponentially, but it is absolutely true. Today, every company is a big data company. Dell EMC recently published that by the end of 2020 we'll have 40 trillion gigabytes of data (40 zettabytes). Even more incredibly, IBM notes that 90% of this data has been created in the last two years. That data is coming from all areas of an organization, and has created a massive growth in the IT storage layer. More importantly, applications and customer experiences now have a massive dependency on storage. Customers just expect that you've got all the information ready and available.
As storage requirements grow inside the organization, the natural tendency is to add more and more storage, as opposed to optimizing what you already have. The biggest reason for this is that understanding and measuring storage usage is challenging and opaque. In a large organization, you'll often find multiple storage platforms deployed, in addition to cloud storage platforms. Understanding usage and application dependencies across all those storage providers has historically been, more or less, impossible.
Because of this tendency to "always add more", storage can quickly become a black hole for enterprise budgets. High performance disk shelves can easily run $100K for 45TB. But once you apply RAID, reserve the performance for a specific host and allow for growth, you could be down to 5TB or less of usable storage for the host. This is why CFOs constantly find themselves faced with new POs for additional storage. At some point, there's pressure on the IT organization to provide visibility into where and how the storage is being used, and which applications the disks are supporting. But they have a difficult time providing that visibility.
Vendor-provided toolsets are minimal at best and provide limited reporting. Even the best tools are proprietary with no visibility into other systems. So what happens? Storage administrators undertake an effort to manually produce utilization reports via Excel.
ArrayIQ, founded in 2014 by storage and virtualizations experts from EMC, CA, and BMC Software, was created to solve this problem. ArrayIQ radically simplifies storage and virtualization management, reporting, chargeback and analytics to lower the total cost of ownership of your storage infrastructure by up to 80%. Simply put, it provides the most complete storage discovery and visibility solution on the market. It provides unprecedented visibility compared to traditional storage management tools which are expensive and difficult to use. It already works at scale, managing data centers with 50+ arrays and over 8 petabytes of storage.
ArrayIQ is also a perfect match for the Device42 platform. It significantly expands our storage discovery and visibility capabilities and gives us unprecedented visibility into this challenging infrastructure. After meeting with the ArrayIQ team and investigating their product fully, the synergy between our companies and our products became obvious.
Unparalleled Storage Visibility
With the addition of ArrayIQ functionality, Device42 will now be able to map infrastructure requirements to the application all the way down to the physical disk being used in the storage array. We'll be able to show the current utilization of the disks purchased, and possibly even map them back to the POs used to purchase them with our warranty sync feature.
Since storage can be such a budget drain, accurate forecasting of disk consumption is critical. With ArrayIQ's ability to collect performance, configuration and capacity data across the diverse ecosystem of storage arrays, we'll now have the data to be able to create those storage forecast models. This will enable enterprises to further optimize their storage purchases.
ArrayIQ functionality easily translates into business benefits too. With root cause analysis, it saves time identifying all the elements involved, which facilitates quick incident resolution. It also helps meet SLAs by allowing storage administrators to apply different policies to different storage elements and generate custom reports and alerts.
What happens next
ArrayIQ, integrated into Device42, is a product that is missing from the market today. The data collected will enable Device42 to complete the picture of on-premises and cloud environments. This visibility will be incredibly valuable to our enterprise customers who will be able to convert that directly into cost savings. And the storage administrators should also be thrilled to see this depth of data, as they will now be able to provide much more in-depth reporting and analytics to the C-suite.
ArrayIQ is currently being integrated directly into the Device42 platform as Storage Discovery. Please contact us to learn more.
Please join me in welcoming ArrayIQ to Device42!