With a shift towards remote work and remote engagement with the market, Device42 is dedicated to ensuring that our prospects, customers, and partners have the most up-to-date product update information available to them whenever they need it. It's to that end, that we're excited to launch a new series of monthly blog posts through which we will take a deeper dive into some of the product updates and themes that we've worked on in the past month.
This past month has seen much of our work focused around three areas: improving our core discovery functionality, adding additional querying capabilities, and implementing a solution to help provide better analytics on the product. Below we will go into more detail about each of these updates, why we made them, and the value you may see as a customer from these updates.
Continued Improvement Of Discovery Services
Device42 was built upon the strength of our discovery services – we literally call that Core because it is so fundamental to everything we do. With that being said, we believe that you can never stop improving and so we regularly add to our Discovery coverage and the details that are provided on assets it discovers. Device42 boasts the broadest coverage of any discovery service on the market today thanks to our continued work expanding our core discovery, along with other efforts such as the recent acquisition of a Storage Inventory Solution, ArrayIQ. In addition to the work to integrate ArrayIQ into our product, Device42 worked on the following Discovery improvements in August:
Improved Discovery Scores
New scores more accurately reflect what Device42 does during discovery. When Device42 is communicating with an API rather than an individual endpoint (e.g., a virtual machine), Device42 is now creating an API Manager discovery score record to report success or failures against the API endpoint directly. Devices returned by the API will then generate individual discovery score records.
Discovery scores can alert our users if jobs are not running successfully, so they know the issues when they're happening instead of finding out weeks later when their data gets stale.
Additionally, for cloud discoveries such as AWS, Device42 may create a discovery score per region so that we can better track errors per region. This will be especially impactful for multinational organizations and/or our partners who work with clients across multiple regions.
Our improved Discovery Scores have been added for most discoveries, including:

Cloud discovery
UCS/ACI/Load Balancer
IPMI/Redfish
DNS
Certificates
Several Hypervisor/Window/*nix subtypes

The Discovery Score page also now includes a column for "Other" to rate the success of discovery functions that don't fall into the four existing categories (basic, software, services, applications). This may account for API calls, for example. This number typically represents how many actions we took and how many of them were successful or returned data. This number has no correlation to how many devices or records were created, but rather a generic measure of all the steps Device took to gather information.

The progress section of each supported discovery has been centralized and redone to show more consistent progress. In addition, the objects-added count has been converted to a hyperlink to quickly show all the discovery scores where objects were added to the system.
Database Recovery Mode information for MS SQL Server database instances
This will provide users with information on what was done during recovery mode and what kind of restore operations were taken.


Improved SNMP discovery
Device42 SNMP discovery now supports the following devices:
Calix E7-20
Cisco CTI-CMS-1000-M5K9
Fortinet 3032D
HP S9576
HP DL 360
Huawei Fusion Server 2288H
Improved cloud definitions for Microsoft Azure Cloud
Device42 can now support the following Azure Cloud Definitions: Public, China, US Gov., and German. This means that customers may now discover assets deployed within each of these clouds and have each cloud defined within the discovered asset. No more guessing where something is deployed!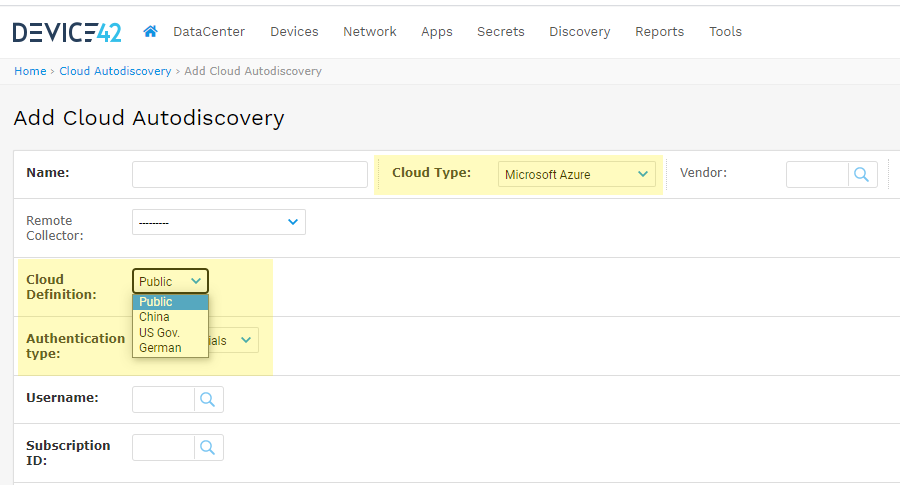 More Asset Details Available For Querying
One of the most important aspects of any discovery solution is an ability to query the information discovered to rapidly find what your team needs, when you need it. Device42 has created our own Object Query Language known as DOQL (Device42 Object Query Language) for this specific purpose. DOQL allows users to easily search for specific objects by making requests using curl, or by pointing your favorite REST API client at the DOQL query endpoints. In the past month, we have added even more queryable information including the Cloud Recommendation Engine (CRE) data. Previously, Device42 Cloud Recommendation Engine (CRE) data was only available as a .csv output that was not accessible within the Device42 platform. By adding CRE data to DOQL, users can easily access their cloud recommendations either within the Device42 platform or in existing tools by leveraging the Device42 API.
Introducing Analytics and Guidance to Device42
Device42 has partnered with analytics tool Pendo to get better visibility into how our customers and partners are using our product. This will help us better inform and prioritize future updates to better meet our users needs and expectations. One of the challenges associated with on-premise solutions is that once deployed, the solution becomes a black box. Software vendors are unable to get real-time understanding of how the solution is being used, what features are triggering the most support tickets, and what parts of the product are not solving for the customers desired use case. Our guidance capability will help Device42 users by guiding them to the features that benefit them most.
This addition will also enable Device42 to collect select usage information to help us better assist our users as they onboard and preempt support questions by providing guidance within the product at the exact moment it's needed. If a customer is interested in having their data influence the future of Device42 and opts into using Pendo, Device42 will collect the following:
Metadata for each visitor and account. Once these attributes are passed, they can be used to create segments for guide targeting, as well as general analysis.
Page Views to better understand page view events from end users. Upon page load, Pendo will collect the URL of the page, some browser information (such as language and browser version), and the title of the page.
Click and Focus Events which allow us to understand exactly when you click into a specific element for more details so we can build in useful information directly within the D42 user interface.
For more information…
If you're interested in learning more you can find our most recent release notes on the Device42 blog or you can sign up for a free trial by filling out this form.